While a synthetic turf field and track system won't last forever, some maintenance can help extend its life — anywhere from a few years to many more.
Among other services, Sportworks Field Design works with several local school districts to evaluate the turf systems and tracks, giving recommendations on how much longer the owner has before the system needs to be replaced and if there is anything that can be done in the meantime to improve the quality of the field.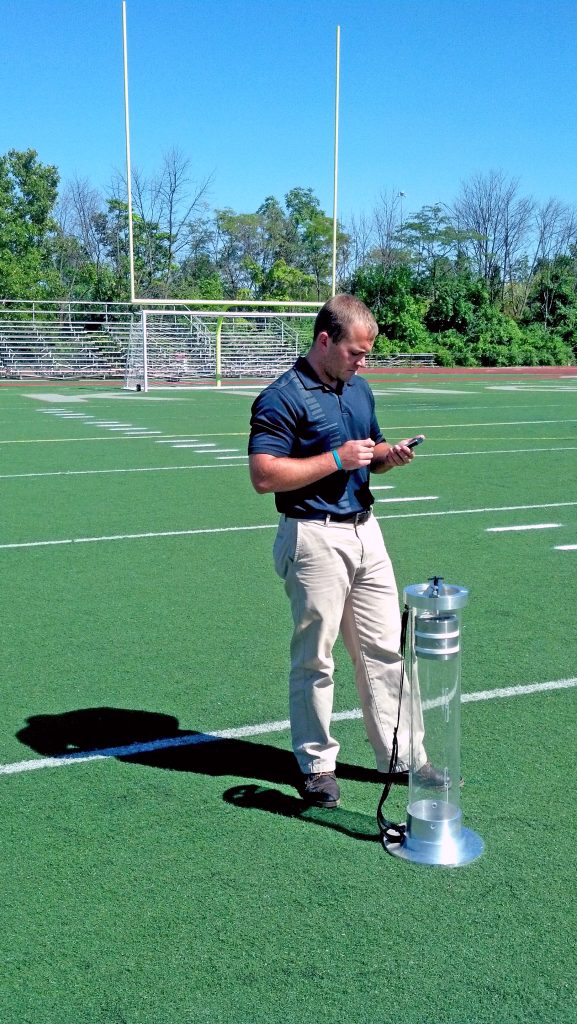 Through a combination of Gmax testing, measuring infill depths, calculating the overall planarity of the field and microscopic photos of the fibers, Sportworks is able to give an owner a recommendation on the remaining life of their field.
In some cases, a short-term fix is recommended for a field that is nearing the end of its life cycle, but in other cases, there may be options to help the owner get another two or three years of use out of the field.
For instance, if the infill is low and Gmax numbers indicate the field has hardened, Sportworks may recommend additional infill be added to the field, or a deep-tining service (which is not unlike aeration) that can loosen the over compacted infill.
Similarly, Sportworks evaluates existing running track surfaces. In some cases rubber on a track can be patched at high wear areas to help extend the life of the system. However, if the overall rubber surface has deteriorated beyond a point of repair, Sportworks can recommend the old rubber be scraped off and replace with new rubber, simultaneously taking pavement cores to evaluate the pavement underneath and complete any necessary pavement rehabilitation to ensure it lasts another track life cycle. While not cheap, this type of in-depth knowledge can prevent an owner from having to install an entirely new track system and pavement section.
Through recommended testing, owners may find problems before they worsen, extending the life of the field or track system and saving long-term costs. Additionally, if a field needs to be replaced within a few years, testing can help owners set a realistic timeline, helping them better plan for their long-term needs.